Mascarpone, Shrimp & Zucchini Gnocchi Recipe
I think we can always use more quick and easy-to-make recipes during the weekdays, so I've got another one for you guys! This gnocchi dish with shrimp, zucchini, and a creamy mascarpone sauce is sure to fill you up.
Serves: 2  |  Prep Time: 5 mins  |  Cook Time: 15 mins  | Total: 20 mins
Cooking & Kitchen Supplies: medium cooking pot  |  medium skillet  |  small frying pan  |  cheese grater

Ingredients for the Mascarpone & Shrimp Gnocchi
500g gnocchi
160g shrimp
1 zucchini
3 cloves garlic
1 yellow onion
1 handful fresh basil leaves
65g mascarpone
20g parmesan cheese
20g pine nuts
extra virgin olive oil
ground salt & black pepper
optional: 1 tbsp dried chili flakes
If you've never had gnocchi before, you're really missing out! Gnocchi is a type of Italian pasta – shaped like little dumplings – which are made out potato or wheat.
I use the Gnocchi di patate type a lot myself. When cooked they turn into doughy, chewy pasta dumplings. But if you choose to bake them afterwards, their outer layer turns all nice and crispy. They're not only very tasty, but also pretty versatile!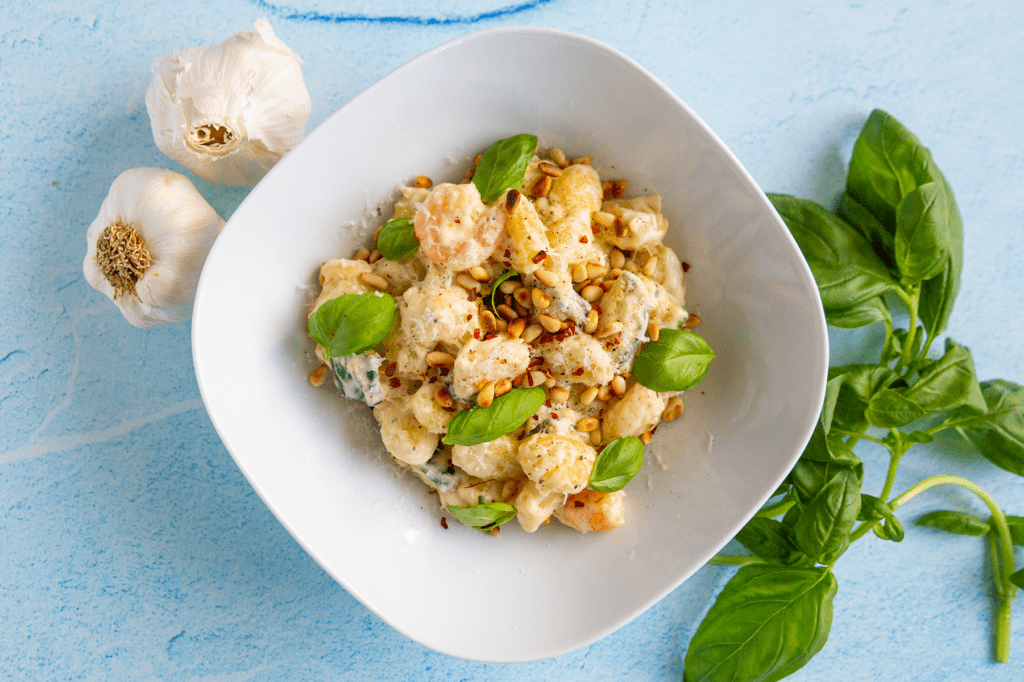 How to Cook Mascarpone & Shrimp Gnocchi
Personally, when cooking pasta, I always start off by boiling some water in the electric kettle so that I've got some hot water ready to go when I need it. If you don't own one, you can also boil water in a pan of course.
Finely dice the onion, garlic and half of the fresh basil, and cut the zucchini into cubes. Grate your parmesan cheese, and devein your shrimp if needed.
Heat up your skillet with some olive oil, then sauté the diced onion bits until they're tender. Add the zucchini and garlic and cook everything until the zucchini starts to soften and get some color.
In the meantime, season your pasta water with some salt, and cook the gnocchi according to instructions.
Then add the the shrimp to the skillet and cook it for a little bit. Be careful not to overcook it.
Turn down the heat and add the mascarpone, half of the parmesan cheese, and chopped basil to the pan, and give everything a stir. Add the cooked gnocchi and season the dish with salt & black pepper. Stir everything together until all the ingredients are coated with the mascarpone sauce.
Heat up a small frying pan to toast your pine nuts. No need to add oil. Carefully toast them until they turn golden-brown, making sure not to burn them.
Finish the mascarpone & shrimp gnocchi with the toasted pine nuts, and the remaining parmesan cheese and basil leaves. Sprinkle some dried chili flakes over the dish if preferred. It's ready to serve, enjoy!